Alkemista Infusion Blend Bundle
Details
https://www.surlatable.com/alkemista-infusion-blend-bundle/6869960.html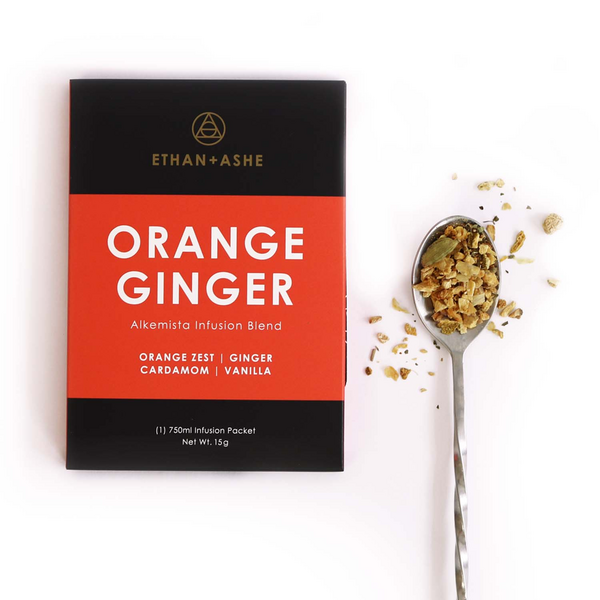 Alkemista Infusion Blend Bundle
Additional Information
Transform your favorite spirits with this delicious bundle that includes six popular infusion blends designed to take your custom cocktails to the next level. These blends work with the Alkemista Infusion Vessel and each one infuses a 750ml bottle.
Includes:
Black Demin is inspired by 1980's Hollywood, and features a blend of cinnamon, orange peel, black tea, star anise, clove and vanilla for a heady blend of sweet and smoky.
House Bitters blend features orange peel, coriander, cardamom, gentian root, cherry bark, cassia chips, star anise, cinchona bark, mace, allspice, vanilla and clove for a classic bitters blend designed to complement all your favorite cocktails.
Orange Ginger has an invigorating blend of citrus and sweet earthy notes that include ginger, orange peel, cardamom, spearmint and vanilla.
Zen Jardin features a harmonious blend of green tea, chamomile flowers, cherry bark, jasmine flowers and cardamom that adds a soft, floral character to spirits.
Ancho Libre adds a spicy kick to margaritas or mules with its delicious blend of ancho chili, black tea, orange peel, black peppercorn and grains of paradise spices.
Rose Lemon Gin includes rose hips, juniper, cardamom, lemon peel, jasmine flowers and angelica root for a floral, citrusy taste with juniper notes.
Manufacturer: Ethan+Ashe
Ingredients: Black Denim ingredients: Cinnamon, orange peel, black tea, star anise, clove, vanilla; Orange Ginger ingredients: Ginger, orange peel, cardamom, spearmint, vanilla; Rose Lemon Gin ingredients: Rose hips, juniper, cardamom, lemon peel, jasmine flowers, angelica root; Zen Jardin ingredients: Chamomile flowers, green tea, cherry bark, jasmine flowers, cardamom; House Bitters ingredients: Orange peel, coriander, cardamom, gentian root, cherry bark, cassia chips, star anise, cinchona bark, mace, allspice, vanilla, clove; Ancho Libre ingredients: Ancho chili, black tea, orange peel, black peppercorn, grains of paradise
Made in China
One Black Denim 750ml Infusion Packet
One House Bitters 750ml Infusion Packet
One Orange Ginger 750ml Infusion Packet
One Zen Jardin 750ml Infusion Packet
One Ancho Libre 750ml Infusion Packet
One Rose Lemon Gin 750ml Infusion Packet
Read Reviews (0)
Questions & Answers
Read Reviews (0)
Questions & Answers