Bitterman Braising Salt, Set of 3
Details
https://www.surlatable.com/bitterman-braising-salt-set-of-3/7313570.html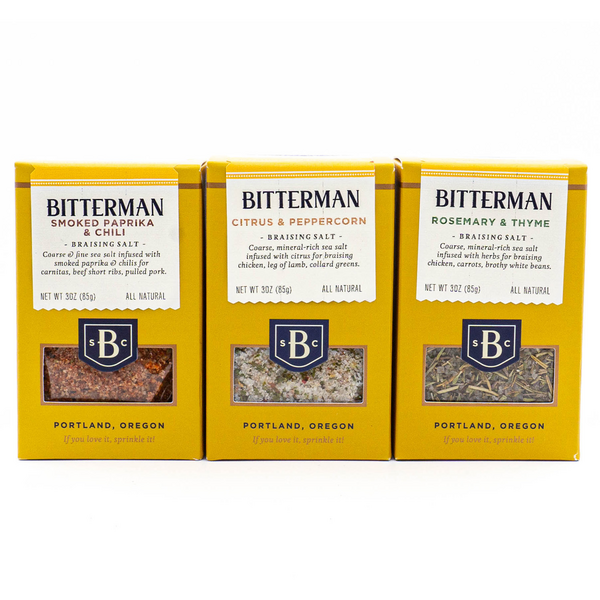 Bitterman Braising Salt, Set of 3
Additional Information
Turn any meal into a flavorful feast! This set contains three distinct braising salts— Rosemary & Thyme, Citrus & Peppercorn And Smoked Paprika & Chili—perfect for livening up a wide variety of meals.

Rosemary, thyme, sage and marjoram, plus coarse, minerally, chunky gris sel meet in the Rosemary & Thyme Salt, creating a perfect mix for braising chicken thighs or root veggies, especially carrots, turnips, parsnips and potatoes. Use the mix to season a pot of creamy braised white beans with garlic and herbs for a delicious, nourishing meal.

The Citrus & Peppercorn Braising Salt features two types of citruses, lemon and orange, plus pink peppercorns and fleur del sel. It is ideal for braising meats like chicken or buttermilk marinated leg of lamb or cooked greens like spinach or collard greens.

Fleur de sel is infused with smoked paprika, onion, garlic and fresh chili in the Smoked Paprika & Chili Braising Salt. Use it to braise beef short ribs, shredded pork, carnitas and other shredded beef dishes.

Every set of Bitterman Infused Salts is a shortcut to a tastier meal. A sprinkle is all you need to bring flavor to your favorite dishes. Salt guru Mark Bitterman travels the globe seeking exotic salts because he understands salt is the most powerful, easiest and cost-effective ingredient in the kitchen.
Manufacturer: Bitterman Salt Co.
Weight: 3 oz. per box
Ingredients:

Rosemary & Thyme Salt: Sel gris sea salt, rosemary, thyme, marjoram, sage
Citrus & Peppercorn Salt: Fleur de sel sea salt, sel gris sea salt, parsley, marjoram, thyme, pink peppercorns, orange oil, orange peel, lemon peel
Smoked Paprika & Chili Salt: Fleur de sel sea salt, sel gris sea salt, smoked paprika, garlic, onion, guajillo chili, black pepper, cilantro, cayenne

Allergen Statement: Manufactured in a facility that also processes dairy
Shelf Life: 2 years
Made in the USA
Rosemary & Thyme Salt
Citrus & Peppercorn Salt
Smoked Paprika & Chili Salt
Read Reviews (0)
Questions & Answers
Read Reviews (0)
Questions & Answers