Instant Pot Ultra, 6 qt.
Details
https://www.surlatable.com/instant-pot-ultra-6qt/3436474.html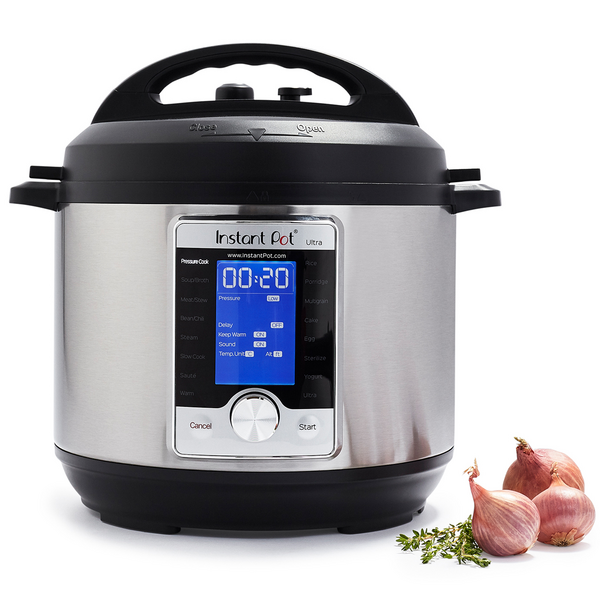 Additional Information
It's called the Ultra for good reason—the world's most advanced Instant Pot combines a remarkable 10 cooking functions into one easy-to-use, compact countertop appliance that's perfect for today's busy and health-conscious lifestyles. The Instant Pot Ultra does it all—pressure cooker, slow cooker, rice cooker, cake maker, yogurt maker, sauté, steamer, warmer and sterilizer.

The Ultra's large, intuitive digital screen makes it easy to select from its 16 time-saving presets at the push of a button: Cook, Soup/Broth, Meat/Stew, Bean/Chili, Steam, Slow Cook, Sauté, Warm, Rice, Porridge, Egg, Sterilize, Yogurt, Multigrain and Cake presets (Multigrain and Cake presets available on 6- and 8-qt. sizes only).

Only the Ultra gives you unlimited control over all settings, allowing you to set each preset based on your favorite recipes and preferences (no matter how finicky), or turn your Instant Pot into a sous vide cooker. Delay Start and Keep Warm functions make it even easier to work everyday cooking into your busy lifestyle.

The Instant Pot Ultra comes with a stainless steel inner pot ideal for sautéing and browning. The pot is removable and dishwasher safe, so cleanup is a breeze. Included accessories—a rice spatula, ladle, measuring cup and canning rack—allow you to master a variety of techniques and recipes.
The world's most advanced Instant Pot, the Ultra is endlessly adjustable, allowing you to prepare a wide range of recipes with one easy-to-use multicooker
New Steam Release Reset Button locks in place for easy steam release
Choose from three pressure settings: none, medium or high
Sixteen preset options include: pressure cook, soup/broth, meat/stew, beans/chili, steam, slow cook, sauté, warm, rice, porridge, egg, sterilize, yogurt and ultra (manual). The 6-qt. and 8-qt. models also have presets for multigrain and cake
Intuitive digital screen is easy to read and navigate
Lid automatically resets to sealing position when opened or closed for no-hassle pressurization
Stainless steel bowl is great for browning ingredients
Cooking progress indicator lets you keep tabs on food as it cooks
Select functions let you choose from three preset temperatures: low, medium or high, or customize the temperature to suit your recipe
Delay cooking for up to 24 hours, so food is ready when you are
Automatic Keep Warm mode ensures food stays warm and fresh until it's time to eat
Removable pot, lid and rack are dishwasher safe for easy cleanup



Exclusive Ultra mode allows you to adjust every parameter of the other 15 presets and can be used a sous vide
Pressure Cook preset allows up to 6 hours of cook time
Slow Cook preset allows 2 to 20 hours of non-pressure cooking
Rice preset can cook delicious white rice in under 10 minutes
Multigrain preset is perfect for quick, easy brown rice or wild rice
Sauté preset allows you to choose between 3 different temperatures for stir-frying, simmering or thickening sauce, or pan searing or browning meat
Soup/Broth preset is perfect for making homemade broth from bone marrow in a fraction of the time of conventional methods
Warm preset keeps food warm at low, medium, high or custom temperatures
Meat/Stew preset produces moist, tender results
Bean/Chili preset cooks beans faster than other methods while retaining more flavor
Steam preset works best with included rack to steam vegetables, seafood and more
Porridge preset prepares rice pudding and grains other than rice
Sterilize preset performs dairy pasteurization, water-boiling canning and sterilization of baby bottles and more
Cake preset makes moist, fluffy cakes and bread
Egg preset makes perfect eggs in minutes
Yogurt preset heats and ferments milk
Manufacturer: Instant Pot
Model:
6 qt.: IP-ULTRA60
Material: Stainless steel, plastic
Capacity, Weight and Dimensions:
6 qt.: 14.6 lbs.; 13" x 13"
Watts: 1000 W
Warranty:1-year limited warranty
Made in China
Pot, lid and rack are dishwasher safe
Hand wash other accessories
Follow manufacturer's care and use instructions (included)
Multicooker
Stainless steel pot
Plastic rice spatula
Plastic ladle
Stainless steel wire canning jar rack
Plastic measuring cup (1-cup)
Instruction booklet
Read Reviews (529)
Questions & Answers
Read Reviews (529)
Questions & Answers