Sur La Table Platinum Professional Pizza Pan
Details
https://www.surlatable.com/sur-la-table-platinum-professional-pizza-pan-14/5721139.html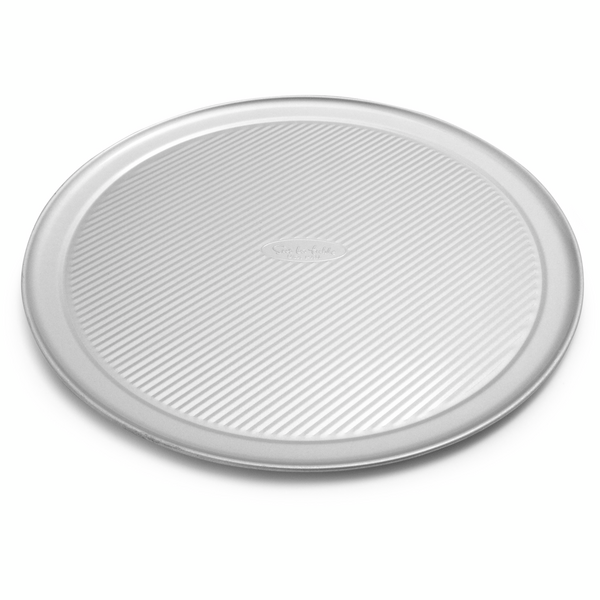 Sur La Table Platinum Professional Pizza Pan
Additional Information
Developed just for Sur La Table in Pittsburgh, PA, by USA Pan, our commercial-quality pizza pan meets the highest standards for performance and durability. Each piece in this collection is constructed with the same features found in the best pans in the industry.

Thick aluminized steel offers superior heat transfer, resistance to corrosion and rust, and excellent durability. Each pan's thickness is based on years of performance data to deliver perfectly even heat distribution and a lifetime of use. Steel wire is added to pan rims for extra strength and resistance to warping.

Unique fluted design with corrugated construction maximizes strength and impact resistance, and resists warping and denting that can occur with use. Textured surface allows airflow under baking food for beautifully even overall results and easy release every time.

In addition, our eco-friendly nonstick silicone coating is specifically formulated for baking and contains no PTFEs or PFOAs. The most advanced coating available; no other surface releases food and cleans up more easily.
Developed just for Sur La Table by USA Pan in Pittsburgh, PA
Commercial-quality professional bakeware meets the highest standards for performance and durability
Thick, aluminized steel offers superior heat transfer and resistance to rust and corrosion
Delivers perfectly even heat distribution
Textured surface maximizes strength and impact so its resistant to warping and denting. It also allows airflow under food for beautifully even baking and easy release every time
Eco-friendly nonstick silicone coating is specifically formulated for baking and contains no PTFEs or PFOAs
The most advanced coating available; no other surface releases food and cleans up more easily
Made in the USA, exclusively for Sur La Table
Dimensions:

12 inch: Baking Surface: 12" L x 12" W x .38" H; Outer Pan: 12.69" L x 12.69" W x .38" H
14 inch: Baking surface: 14" L x 14" W x 0.37" H; Outer Pan: 14.75" x 14.75" x 0.375"
16 inch: Baking Surface: 16" L x 16" W x 38" H; Outer Pan: 16.69" L x 16.69" W x .38" H

Material: Aluminum with silicone coating
Made in the USA
Hand wash with warm water and mild detergent using a sponge or nylon pad. Rinse and pat dry thoroughly
Use of cooking spray not recommended
Use only silicone, nylon or wooden tools. Do not cut in the pan or use sharp metal utensils
Do not heat beyond 450°F
Pizza Pan (sold individually)
Read Reviews (25)
Questions & Answers
Read Reviews (25)
Questions & Answers