PRO-2168581
Sur La Table
new
Sur La Table Asian Curry and Honey Roasted Carrots Seasoning Mix
Close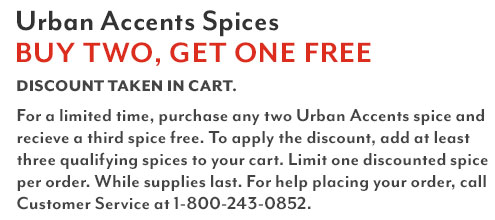 Quick and easy never tasted so flavorful.
Description
Earthy, aromatic curry pairs with a hint of honey for a seasoning blend that's perfect for grilling and roasting carrots and other root veggies. Easy-to-use mix seasons up to three one-pound batches. Gluten free.

For each batch, in addition to the mix you will need:
1 lb. carrots
3 Tbsp. oil
Specifications Show
Manufacturer: Sur La Table
Weight: 1.25 oz.
Ingredients: Granulated honey, salt, ground cumin, red bell pepper ground peppercorns, sugar, ground coriander, granulated onion, turmeric, cayenne pepper, vanilla bean powder
Made in USA
Videos
Customer Reviews
Good flavor but a bit spicy for me
We made these as a side dish for Thanksgiving and most people were extremely happy with them even though they were spicy. I cut them in chunks like the directions say but I didn't follow the directions on only using partial on the seasoning and used the whole thing...don't do that. Follow the directions and there should be enough sauce/spice. I think it was only too spicy for me because I used the whole packet of spice mix.
Makes wonderful stocking and basket stuffers
August 31, 2017
Purchased
over 2 years ago
Questions & Answers
Browse 2 questions
Browse 2 questions and 27 answers
BEST ANSWER:
The ingredients listed are honey, salt, cumin, red bell pepper, peppercorns, sugar, coriander, onion, turmeric, cayenne pepper, and vanilla bean.

You are to use olive of your own in the preparation.

So, all items as listed are from non animal sources.
Unless you consider a BEE an animal.

The honey is the only ingredient you have to decide on to stick to your vegan diet.
Alice K

on Dec 1, 2017

Purchased on Oct 16, 2016