PRO-2366953
new
Kuhn Rikon Silicone Sponge
Close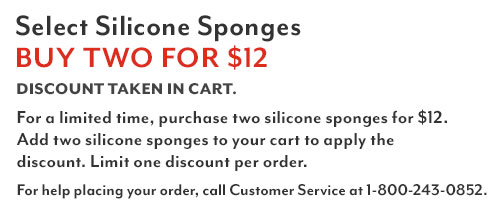 A great alternative to disposable sponges.
Description
Make short work of washing dishes, countertop messes and more with this reusable silicone sponge. Made of durable, heat-resistant silicone, it's gentle enough for use with nonstick cookware, yet can handle even dried-on messes with ease. And you can toss it in the dishwasher when you're done cleaning for a sponge that's as good as new every time you use it.
Videos
Companion Products
Kuhn Rikon
Pan Protectors Set of 3
Nonstick pans are an essential item in any kitchen, but they can be easy to scratch, especially when stored with other pans. These flexible silicone pan...
See product page for full details »
Sur La Table Lemon and Sea Salt Dish Soap
Salty air, white sands and sparkling citrus mingle with notes of Valencia orange, bergamot, basil and cedar in our exclusive lemon and sea salt dish...
See product page for full details »
Sur La Table
Sur La Table Olive and Coriander Dish Soap
New The Mediterranean warmth of ripe olives and Tuscan herbs mingles with notes of sparkling lemon, clove and velvety muguet in our exclusive olive and...
See product page for full details »