PRO-2419497
Sur La Table
new
Southwest Black Bean Slider Seasoning Blend
Close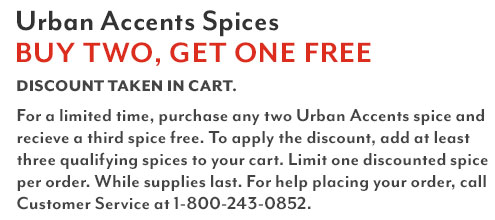 Veggie burgers with a Southwestern kick.
Description
EXCLUSIVE
Even seasoned carnivores will love veggie burgers with our slightly spicy blend of chipotle peppers, cumin, coriander and garlic. Handcrafted in small batches just for us, this gluten-free spice blend makes a flavorful addition to your next barbecue. Each all-natural packet makes three batches.
Specifications Show
Manufacturer: Sur La Table by Urban Accents
Ingredients: Chipotle pepper, cumin, coriander, salt, sugar, dehydrated garlic, natural flavors and less than 2% tricalcium phosphate (anti-caking)
Made in USA exclusively for Sur La Table
Care & Usage Show
Store in a cool, dry place
To make, you will need: Two 14-oz. cans black beans, 1 egg, beaten, 2 Tbsp. seasoning, ⅓ cup panko bread crumbs, ¼ cup cilantro
Instructions: Using a food processor or hand mixer, pulse 1 14-oz. can of beans with egg, panko and 2 Tbsp. seasoning until a coarse puree forms. Transfer to a medium bowl, then stir in remaining beans and cilantro. Divide mixture into 8–10 portions, then ball lightly and flatten into patties. Place on platter, cover with plastic wrap and refrigerate before cooking for at least one hour. To cook, heat a small amount of oil in a nonstick skillet over medium-high heat. Cook burgers until they are warmed through and the outsides are crisp and lightly browned, turning once (approximately 6–9 minutes)
Companion Products
Sur La Table
Garlic and Dill Crab Cake Slider Seasoning Blend
Notes of dill, garlic and citrus enhance the fresh-from-the-sea flavor of lump crabmeat for delectable sliders that are anything but ordinary. Great grilled ...
See product page for full details »
Sur La Table
Green Goddess Herb Butter Seasoning Blend
Add a layer of buttery, herby goodness to seafood, steak or warm, crusty bread. Our compound butter blend is packed full of parsley, chives, tarragon and...
See product page for full details »
Related Recipes
Southwest Vegetarian Black Bean Slider
Questions & Answers
Browse 2 questions
Browse 2 questions and 6 answers
Why did you choose this?
Great all purpose seasoning. Can be used with many veggies and beans. Roast in a skillet, add some oil and seasoning and bingo. Easy, tasty, healthy: perfect for vegetarians and for meat/fish eaters for a gourmet side dish
xmas gift for a friend who cooks for his vegetarian dinner guests.
Is there liquid smoke as part of the natural flavors in this mix?