PRO-3078755
Urban Accents
new
Sur La Table Fennel & Pepper Meatball Seasoning Mix
Close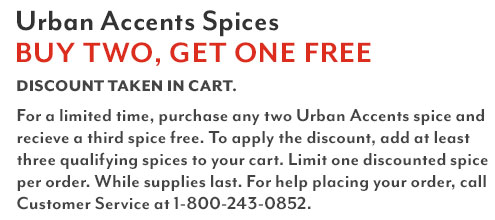 A fresh take on a classic, full of Mediterranean spice.
Description
Don't have Nonna's recipe on hand? Try our delicious new take on the classic meatball, with Mediterranean flavors of black pepper, fennel and orange peel. It's easy to prepare and makes a crowd-pleasing party appetizer. Like all of our small-batch seasoning mixes, this one is made using all-natural ingredients.
Directions:
½ cup diced onion
1 lb. ground pork
1 lb. ground beef
2 eggs, whisked
½ cup panko breadcrumbs
¼ cup chopped parsley
3 Tbsp seasoning mix



Preheat oven to 350F. Mix all the ingredients together. Using a ¼ cup as a measuring guide, shape meat into about 18 meatballs. Splash a bit of olive oil into a skillet over medium-high heat. Brown the meatball on all sides. Place browned meatballs on a cookie sheet and bake for 15-17 minutes. Serve with marinara sauce or top with grated Parmesan cheese.
Specifications Show
Manufacturer: Sur La Table by Urban Accents
Weight: 1.8 oz.
Ingredients: Salt, mustard powder, spices, pepper, fennel, granulated onion, orange peel, minced garlic, dried cane syrup, celery seed, arrowroot
Made in the USA
Care & Usage Show
Store in a cool, dry place