PRO-3078797
Urban Accents
new
Sur La Table Balsamic Tuscan Toast Seasoning Mix
Close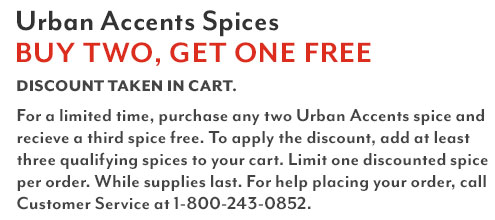 An easy appetizer that's dressed to impress.
Description
Crafted in small batches with all-natural ingredients, this savory and slightly sweet blend of balsamic, sherry wine, rosemary and brown sugar adds complex flavor to an easy party appetizer.
Directions:
1 loaf sourdough bread, sliced
4 Tbsp olive oil 2 Tbsp butter, melted 1 cup cherry tomatoes, diced 2 burrata balls 2 cups arugula 2 Tbsp seasoning mix
Set oven to 400F. Place bread on baking sheet and toast in oven for five minutes. Set aside. In a bowl, mix olive oil, butter and seasoning, Drizzle 2 Tbsp of mixture over cherry tomatoes. Toss to combine. Cut each burrata into 8 pieces. Put 1-2 pieces on each piece of toast. Drizzle a little of the mixture over cheese. Top bread with tomatoes. Bake for 10 minutes. Toss remaining oil mixture with arugula. When ready to serve, put arugula on top of toasts.
Specifications Show
Manufacturer: Sur La Table by Urban Accents
Weight: 1.25 oz.
Ingredients: Sea salt, dehydrated onion & garlic, brown sugar, black pepper, rosemary, thyme, vinegar powder (maltodextrin, white distilled vinegar, balsamic vinegar), sherry wine powder (maltodextrin, sherry wine solids), malic acid, ascorbic acid, natural flavor, yeast extract; less than 2% soybean oil and silicon dioxide added as processing aids
Made in the USA
Care & Usage Show
Store in a cool, dry place