Anova Precision Cooker PRO
Details
https://www.surlatable.com/anova-precision-cooker-pro/5845086.html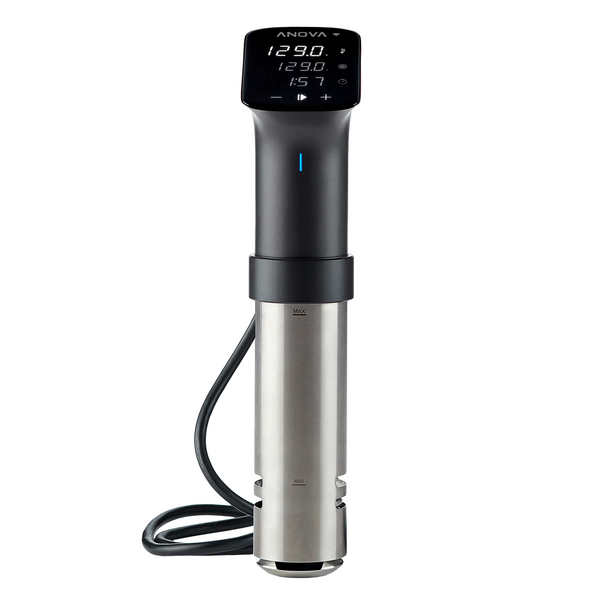 Anova Precision Cooker PRO
Additional Information
Sous vide with serious power

The Precision Cooker PRO gives you incredible power to take your sous vide cooking to the next level. Its powerful 1200-watt motor provides up to 10,000 hours of continuous cooking, and is durable enough to survive being dropped on the floor or submerged in water.

With the Anova Precision Cooker PRO, you can master a cooking technique made famous by professional chefs for its incredible results—in the comfort of your own kitchen. Cook everything from meats, fish and vegetables to soups, desserts and grains! We love this smart, easy-to-use cooker because it doesn't require any specialized equipment, instead allowing you to use your favorite pots and pans.

Simply attach the cooker to any water-filled pot, put your food in a sealed bag, and set the time and temperature. The Precision Cooker heats and circulates the water to an exact temperature, cooking food with a level of precision that ensures maximum tenderness and moisture retention. The sous vide method, which is known for producing evenly cooked food, truly makes overcooking a thing of the past.

The Anova Sous Vide Wi-Fi Precision Cooker PRO has another secret up its sleeve: it features a full-service app that includes time and temperature guides as well as 1000+ recipes. The app also enables you to start, stop and monitor food from your mobile device, so you won't be tied to the stove when entertaining or setting the table.
Sous vide cooking produces restaurant-quality results that are impossible to achieve through any other cooking method. Food is evenly cooked, moist and tender
Easy-to-use cooker is compatible with your existing cookware—just attach to any pot, add water, drop in your ingredients in their sealed bag or glass jar, and then press start
Powerful 1200-watt dual-bearing DC motor plus double-core insulated heater provide up to 10,000 hours of continuous cooking
Keeps water at precise temperature—accurate to 0.1°F up to 197°F in as many as 100 liters of water—for as long as you need
Durable metal and stainless-steel construction—still works even if dropped on floor or submerged in water
IXP-7 waterproof rating
Thanks to manual and Wi-Fi options, you can use the cooker's simple interface to select the time and temperature—or use the Anova Culinary app to find your cook settings and just hit 'start'
App contains 1000+ recipes with step-by-step cooking guides for chefs of any skill level
Wi-Fi connectivity enables you to start, stop, monitor or adjust cooking from anywhere—no need to linger next to the stove
App lets you know when your food is ready, and precision cooker keeps food warm until you're ready to eat
Manufacturer: Anova
Model: AN600-US00
Material: BPA-free plastic, metal and stainless steel
Dimensions: 3.4" L x 2.36" W x 13.8" H
Weight: 2.83 lbs.
Watts: 1200
Warranty: 2-year warranty
Made in China
Read Reviews (2)
Questions & Answers
Read Reviews (2)
Questions & Answers