Artisanal Premium Cheese Italian Trio
Details
https://www.surlatable.com/artisanal-premium-cheese-italian-trio/7469786.html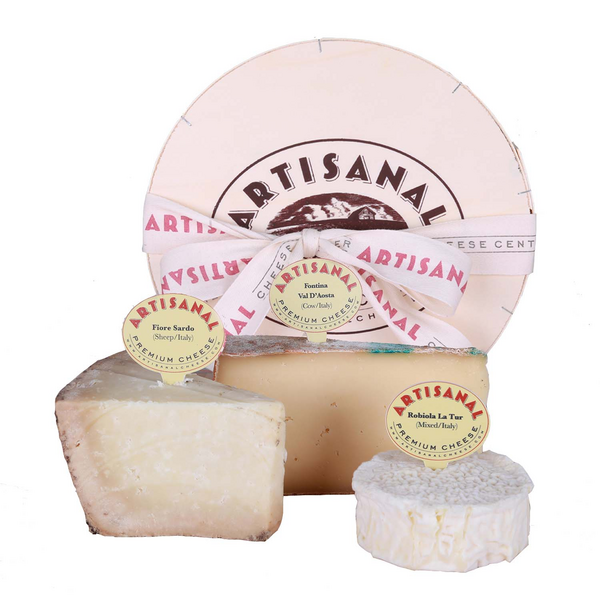 Artisanal Premium Cheese Italian Trio
Additional Information
Indulge the senses with this set of premium Italian cheeses, perfect for snacking and entertaining. This collection includes three varieties of cheese—Fiore Sardo, Fontina Val D'Aosta and Robiola La Tur.

Fiore Sardo translates to "flower of Sardinia." This style of pressed sheep milk cheese originates in Sicily, and the flavor could be described as sharp with salty and tangy notes. Enjoy the cheese on its own or allow it to age and use it as a grating cheese. It pairs well with crisp white wines and fruit-forward reds.

Fontina Val D'Aosta is a delicious semi-firm cow's milk cheese made in the Alpine pastures of Italy. This pressed cheese is washed in Italian caves to develop its signature aroma and keep the paste plump. It has a uniquely rich and nutty flavor, reminiscent of truffles, with a subtle fruity, grassy aroma and supple texture. Pairs with pinot grigio, merlot, or lager style beer.

Robiola La Tur is a small, mild, round robiola from the Langhe region in Northern Italy made of cow, sheep, and goat milk. It has a fresh, milky, slightly sour taste. The firm but fluffy center gives way to a soft and creamy texture just below the thin rind. This beautifully delicate cheese goes well with almond and wildflower scented Arneis from Piedmont, Italy.
Manufacturer: Artisanal Premium Cheese
Weight: 8 oz per cheese
Ingredients:

Fiore Sardo: Pasteurized sheep milk, rennet, salt, enzymes
Fontina Val D'Aosta: raw cow's milk, salt, rennet
Robiola La Tur Ingredients: Pasteurized cow milk, sheep's milk, goat's milk, rennet, salt

Shelf Life: 7-10 days; refrigerate after opening
Made in Italy
Read Reviews (0)
Questions & Answers
Read Reviews (0)
Questions & Answers