Marcato Atlas Black Pasta Machine, 150mm
Details
https://www.surlatable.com/atlasr-marcato-150mm-pasta-machine-black/804864.html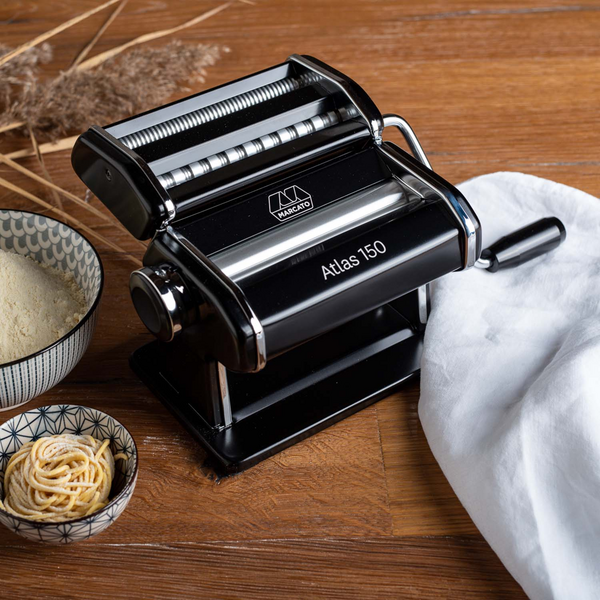 Marcato Atlas Black Pasta Machine, 150mm
Additional Information
No dried pasta compares to the taste and experience of fresh homemade, and luckily the world's most popular pasta machine is also the most versatile. Simple to use and solidly constructed, this authentic Italian machine produces smooth sheets of fresh pasta from your dough with every turn of the handle. An adjustable dial with 9 settings allows you to roll out pasta to your exact desired thickness (from .8mm to 4mm).

The body of the machine is made of nickel-plated and chrome-plated steel for long-term resistance to corrosion and features flat rollers for making the dough sheet, as well as an easy-to-remove double-cutter. The rollers are constructed of special nickel-plated steel with a double-slotted opening for the handle and motor unit. All gears are in case-hardened and tempered steel for extra-long life. The handle and table clamp feature handgrips made of ABS plastic suitable for food use.

A complete set of attachments (sold separately) lets you create more than 15 types of different types of pastas—from spaghetti and ravioli to lasagna and capellini.
The most versatile and popular manual pasta machine available today
Lets home cooks of all levels prepare their own delicious pasta quickly and easily
Simple to use and solidly constructed
Authentic Italian machine produces smooth sheets of fresh pasta from homemade dough
A complete set of attachments lets you create more than 15 types of different types of pastas
Nine-numbered adjustable dial on the opening between the flat rollers allows you to roll your pasta exactly to the desired thickness (from .8mm to 4mm)
Body of the machine is made of nickel-plated and chrome-plated steel for long-term resistance to corrosion
Features flat rollers for making the dough sheet, as well as an easy-to-remove double-cutter
Rollers are constructed of special nickel-plated steel with a double-slotted opening for the handle and motor unit
Gears are in case-hardened and tempered steel for extra-long life
Handle and table clamp have handgrips made of ABS plastic suitable for food use
Includes the pasta machine, a table clamp, handle, 12-page booklet with color photos, detailed instructions and recipes
Made in Italy
Dimensions: 150mm
Material: Nickel-plated and chrome-plated steel, ABS plastic
Warranty: Limited 3-year warranty
Pasta machine
Table clamp
Handle
12-page booklet
Instructions and recipes
Read Reviews (2)
Questions & Answers
Read Reviews (2)
Questions & Answers