Euro Cuisine Automatic Yogurt Maker
Details
https://www.surlatable.com/euro-cuisine-automatic-yogurt-maker/645903.html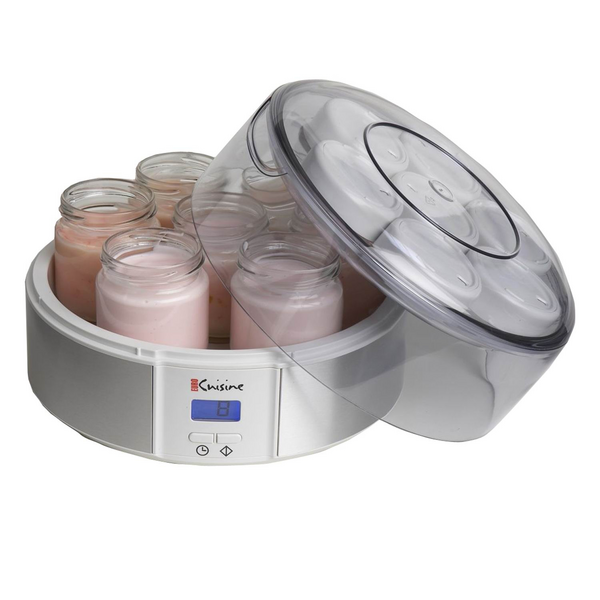 Euro Cuisine Automatic Yogurt Maker
Additional Information
Quickly and easily make homemade yogurt the natural way in your own kitchen. Equipped with built-in timer, this handy yogurt maker creates creamy, all-natural yogurt in six to ten hours. You'll love the convenience and the versatility of creating six individual yogurt servings that are ready to enjoy at home. The jars make these easy to take with you for a healthy breakfast or snack on the go, too.

To use, prepare milk and yogurt starter mixture, pour into the glass jars, set the timer and flip the switch. Easy-to-use maker allows you to control sweetness, ingredients and fat content. Since you can prepare up to seven 6-oz. individual yogurt portions at one time, the unit is very economical. Cook up enough yogurt for a whole week's worth of enjoyment in one batch.

GET CREATIVE
Follow your favorite recipes and enjoy the fun and creativity of trying out new flavors—this yogurt machine allows you to get inspired and be creative! While you can flavor yogurt with anything from coffee, syrups and jams, it's particularly wonderful for fruit lovers—create healthy and delicious recipes that take the fullest advantage of local fruits at the peak of the season. Preserved fruits are also terrific, too.

IT'S EASY AND FUN
Don't worry if you're new to making yogurt, included instructions and recipes will get you started. Controls are easy, and the steps are few, so with just a little bit of prep work you'll be on your way! Maker comes with a timer, so you know when yogurt will be finished cooking. Machine wipes clean, and the jars can be put in the dishwasher (hand wash lids).
Make homemade, all-natural, rich and creamy yogurts with any kind of milk (including soy) in just 6–10 hours
Easy-to-use maker allows you to control sweetness, ingredients and fat content
Prepare up to seven 6-oz. individual yogurt servings at one time
Maker comes with a timer on the side, so you know when yogurt will be finished cooking
Taste and texture will vary according to the milk and yogurt starter selected, but the result is flavor that's delicious, natural and rich
You may choose to make flavored yogurt and add sugar, honey, flavorings, fruit, or other ingredients to taste just prior to eating or include them in your recipes before cooking
Create healthy and delicious recipes that take the fullest advantage of local fruits at the peak of the season
Kit includes yogurt maker and seven 6-oz. glass jars with lids
UL approved
Capacity: Seven 6-oz. servings
Material: Plastic and glass
Warranty: 3-year warranty
Made in China
Wipe machine clean, hand wash lids, jars are dishwasher safe
Maker
Seven 6-oz. glass jars with lids
Read Reviews (1)
Questions & Answers
Read Reviews (1)
Questions & Answers