Euro Cuisine Set of 8 Glass Jars for Yogurt Maker
Details
https://www.surlatable.com/euro-cuisine-set-of-8-glass-jars-for-yogurt-maker/649236.html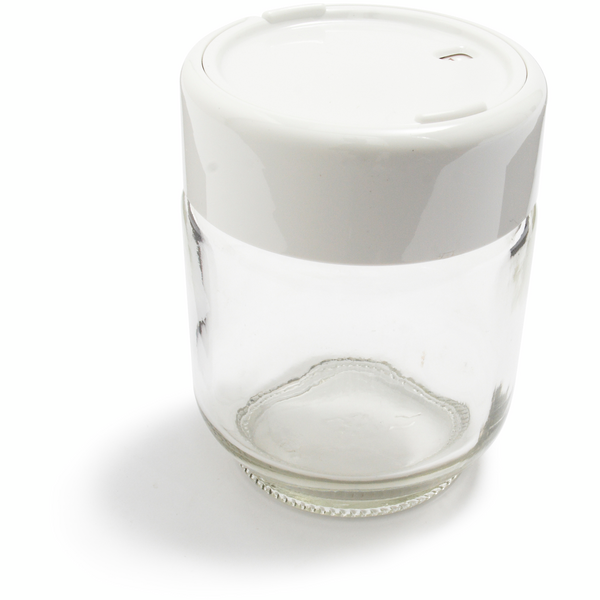 Euro Cuisine Set of 8 Glass Jars for Yogurt Maker
Additional Information
If you're an enthusiast of creating homemade yogurt, this set of glass containers will certainly come in handy. Contains eight 6-oz. jars to store your homemade yogurt prepared using the Euro Cuisine yogurt maker.

There are so many practical uses. If you like to cook in quantity, these are a terrific addition to your yogurt making accessories. Use them to portion up individual servings you can easily take with you on the go. They're also wonderful should you like to add a variety of different ingredients to a larger batch of yogurt. You'll find them particularly good for mixing in different berries, fruit combinations, and flavor medleys, satisfying all the yogurt tastes in your home.
YOGURT STAYS FRESH
Airtight containers help retain maximum freshness for your homemade yogurt. An adjustable numbered dial on the lid allows you to mark the day of the month you cooked the current batch so you can keep track of how long it's been stored in your fridge.
EASY TO CLEAN
The dishwasher-safe glass jars come with lids for storing in the refrigerator. Each jar is 2" diameter x 3½" tall; 6 oz. Set of eight. Made in China.
BENEFITS:
Contains eight 6oz jars to store your homemade yogurt, prepared using the Euro Cuisine yogurt maker
A terrific addition to your yogurt making accessories, especially if you like to make larger batches
Use them to portion individual servings you can easily take on the go
Great for mixing in different berries, fruit combinations, and flavor medleys, to satisfy all the yogurt tastes in your home
Airtight containers help retain maximum freshness for your homemade yogurt
Adjustable numbered dial on the lid allows you to mark the day of the month you cooked the current batch
Dishwasher-safe glass jars come with lids for storing in the refrigerator
Model: GY2640
Includes: Eight 6-oz glass jars with airtight plastic lids
Dimensions: 2" in diameter and 3.5" tall
Material: Glass and plastic
Care: Jars are dishwasher safe; hand wash lids
Made in China
Read Reviews (0)
Questions & Answers
Read Reviews (0)
Questions & Answers