Lodge Square Grill Skillet, 10½"
Details
https://www.surlatable.com/lodge-square-grill-skillet-10/807081.html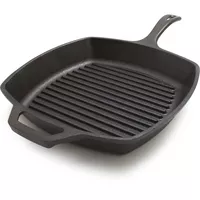 Lodge Square Grill Skillet, 10½"
Additional Information
Create grill marks on your steaks, chicken, chops, sandwiches and more… but most important, you'll love the flavors generated by this Lodge ribbed bottom skillet. Cast iron evenly conducts and retains heat for wonderful grilling. Safe for oven, stovetop and broiler—even works on the campfire!

LOOPED HANDLE
Thanks to the convenient looped side handle, you can easily transfer from the stovetop to oven to table, or use for hanging storage.

READY TO GO
This handy cast iron grill is coated with vegetable oil and cured at high heat to allow the oil to deeply penetrate the cast iron. It comes pre-seasoned and ready to use right out of the box. Like everything from Lodge, this is proudly made in USA.

HEIRLOOM QUALITY
This cast iron favorite will last for years and years with proper use and care. Lodge has been making durable, high-quality cast iron cookware for generations, pleasing the most discerning chefs for more than 100 years.

PEREFECT FOR OVEN, STOVE AND CAMPSITE
Durable cast iron works on the open campfire as well as on your kitchen range. Cast iron has been the choice of savvy cooks for centuries due to its wonderful heat-retention properties, as well as its ability to mitigate the open flame without exposing your food to instant over-cooking.

PRESEASONED CAST IRON
Lodge cast iron is ready to use straight out of the box. Their award-winning foundry seasoning produces cast iron of equal quality to Grandma's prized hand-me-downs. Lodge's foundry seasoning is similar to a home-seasoning method, but on a larger scale. The cast iron is sprayed with a soy-based vegetable oil and then baked on at a very high temperature. The heat allows the oil to penetrate into the iron, creating a black patina finish with superior appearance and performance than home seasoning.
Grills and leaves grill marks on steaks, chicken, chops, sandwiches and more
Durable cast iron with unparalleled quality, craftsmanship, and superior value
Equal in quality to heirloom hand-me-downs
Provides superior heat retention and even cooking
Works on the campfire as well as on your stovetop, oven and broiler
Loop side handle makes transport easier, and allows for hanging storage
Cast iron has been the choice of savvy cooks for centuries
Pre-seasoned and ready to use straight out of the box
Manufacturer: Lodge Manufacturing Company
Material: Cast iron
Dimensions: 10½"
Made in USA
Hand wash; dry immediately
Read Reviews (24)
Questions & Answers
Read Reviews (24)
Questions & Answers