Miyabi Artisan 4-Piece Steak Knife Set
Details
https://www.surlatable.com/miyabi-artisan-4-piece-steak-knife-set/1039247.html
Promotions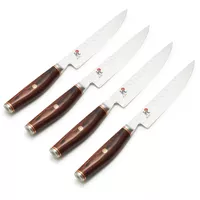 Miyabi Artisan 4-Piece Steak Knife Set
Additional Information
Introducing the exquisite Artisan SG2 Collection, handmade in the legendary knife capital of Seki, Japan. "Artisan" reflects the rich tradition of metalworking in Japan—where since the 13th century bladesmiths have honed their craft and developed an almost mythic reputation.

This truly elegant steak knife set is perfect for entertaining and a beautiful addition to any table. The blades' razor-like sharpness cleanly cuts your meat into manageable bites without tearing. This set is a guaranteed conversation-starter!

Industry-Leading SG2 Core
The ice-hardened symmetrical blade is made from Micro Carbide powder steel SG2, which boasts a Rockwell hardness of 63 through a proprietary ice-hardening process called Criodur. The core is then surrounded with stainless steel that's hammered to a dramatic Damascus-textured finish.

The Samurai Tradition
Today, Miyabi applies the ancient techniques of traditional Japanese samurai swordmaking to create the highest-quality cutlery available on the market. Pick up any of these knives and you'll see that the unmatched sharpness and impeccable craftsmanship of the katana lives on.

Legendary Katana Edge
Using traditional methods and new innovative techniques, each knife in the Miyabi Artisan SG2 collection features a hand-honed blade finished with a true katana edge.

Distinctive Cocobolo Pakkawood Handle
Every Miyabi Artisan SG2 handle is specially designed to fit the hand better than its competitors'. Made with unique Cocobolo Rosewood pakkawood, featuring brass and red spacers, a mosaic pin, and a stainless steel end cap, the handles are both ergonomic enough for any cook and elegant enough for any kitchen.

Limited lifetime warranty. Set of four. Each blade is 4½" l. Hand wash. Made in Japan exclusively for us.
Introducing the exquisite Artisan SG2 Collection
Handmade in the legendary knife capital of Seki, Japan
"Artisan" reflects the rich tradition of metalworking in Japan
Since the 13th century bladesmiths there have honed their craft and developed an almost mythic reputation
Industry-leading SG2 core
Ice-hardened symmetrical blade is made from Micro Carbide powder steel SG2
Rockwell hardness of 63 through a proprietary ice-hardening process called Criodur
Core is then surrounded with stainless steel that's hammered to a dramatic Damascus-textured finish
Legendary katana edge
Hand-honed blade
Distinctive Cocobolo pakkawood handle
Handle is specially designed to fit the hand better than its competitors'
Made with unique Cocobolo Rosewood pakkawood
Features brass and red spacers, a mosaic pin, and a stainless steel end cap
Handles are both ergonomic enough for any cook and elegant enough for any kitchen
Made in Japan exclusively for us
Includes: Set of four
Care: Hand wash
Dimensions: Each blade is 4½" l
Material: Stainless steel and Cocobolo pakkawood
Warranty: Limited lifetime warranty
Read Reviews (26)
Questions & Answers
Read Reviews (26)
Questions & Answers