Le Creuset Signature Oval Dutch Oven, 6.75 qt.
Details
https://www.surlatable.com/pro-889998-cass-675qt-oval/PRO-889998.html
Promotions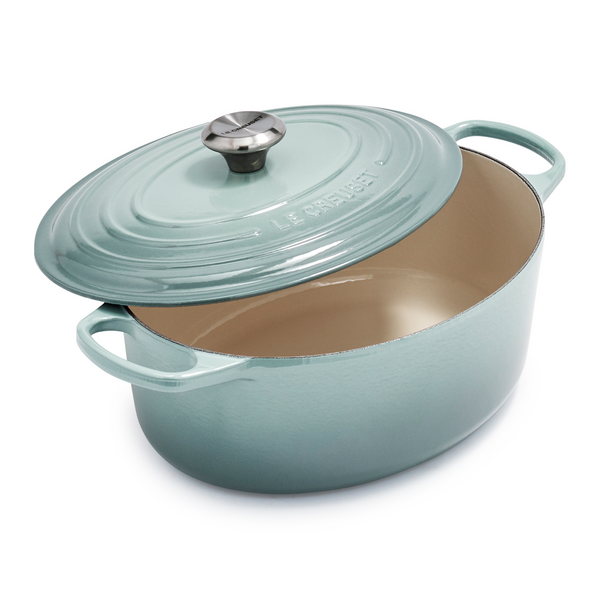 Le Creuset Signature Oval Dutch Oven, 6.75 qt.
Additional Information
Le Creuset's iconic Dutch oven is the perfect choice for slow cooking, simmering soups and stews, roasting meats and much, much more. This French oven's unmatched versatility and superior cooking performance make it an addition to your kitchen that you'll use every day.
HANDCRAFTED IN FRANCE
>At the Le Creuset foundry in northern France, molten iron is sand-cast from a single mold that's destroyed after use, explaining why no two pieces are exactly alike. Le Creuset legendary cast-iron Dutch ovens are sand-cast, polished and finished by hand, then sprayed with two coats of enamel and fired twice. No other procedure yields cookware that performs as well.
EVENLY CONDUCTS AND RETAINS HEAT
Since Le Creuset's enameled cast-iron cookware evenly distributes heat, the Dutch oven is perfect for slow cooking everything from soups and sauces to chili and chowder. You can also use your Dutch oven for braising meat, roasting whole chickens, making classics like beef bourguignon and cassoulet, or even baking a cake!
THE BEST MATERIALS FOR A LIFETIME OF USE
The smooth, long-lasting exterior enamel resists chipping and cracking, while the durable interior sand enamel is engineered to resist staining and dulling. With a wide range of sizes and vibrant colors, you're sure to find just the right one.
DESIGNED TO MAKE COOKING AND SERVING EASIER
A re-engineered lid makes sure it stays more securely in place and locks in more flavors and aromas. Built-in lid stabilizers create a no-slide fit, and the slip-resistant composite knob is heat resistant to 500°F. Oversized handles (now 45% larger) provide even weight distribution and a secure grip.
Suitable for all heat sources: electric, gas, halogen, and induction. Broiler, freezer, stovetop and oven-safe to 500°F. Dishwasher safe, but hand washing is recommended. Limited lifetime warranty. Made in France.
Shop Le Creuset »
Le Creuset's iconic Dutch oven
Perfect for slow cooking, simmering soups and stews, roasting meats and much more
Unmatched versatility and superior cooking performance
An addition to your kitchen that you'll use every day
Handcrafted at the Le Creuset foundry in northern France
Molten iron is sand-cast from a single mold that's destroyed after use, explaining why no two pieces are exactly alike
Legendary cast-iron Dutch oven is sand-cast
Painstakingly polished and finished by hand
Sprayed with two coats of enamel and fired twice
No other procedure yields cookware that performs as well
Evenly conducts and retains heat
Slow cook everything from soups and sauces to chili and chowder
Also use for braising meat, roasting whole chickens, making classics like beef bourguignon and cassoulet, or even baking a cake!
This might be the most versatile piece of cookware we've ever tested
The best materials for a lifetime of use
Smooth, long-lasting exterior enamel resists chipping and cracking
Durable interior sand enamel is engineered to resist staining and dulling
Interior sand enamel is the best formulation on the market today
Perfect for cooking with moisture, it's also the easiest to clean
Designed to make cooking and serving easier
Re-engineered lid makes sure it stays more securely in place and locks in more flavors and aromas
Built-in lid stabilizers create a no-slide fit
Slip-resistant composite knob is heat resistant to 500°F
Oversized handles (now 45% larger) provide even weight distribution and a secure grip
Easily transport the pot from stovetop to oven to table—even while wearing oven mitts
With a wide range of sizes and vibrant colors, you're sure to find just the right one
Whether you're making dinner for two or serving a holiday feast
Suitable for all heat sources: electric, gas, halogen, and induction
Limited lifetime warranty
Broiler, freezer, stovetop and oven-safe to 500°F
Made in France
Manufacturer: Le Creuset
Material: Enameled cast iron
Dimensions: 10"L x 16"W x 7"H including lid an handles
Capacity: 6.75 qt.
Weight: 12.9 lbs.
Warranty: Limited lifetime warranty
Dishwasher safe, but hand washing is recommended
Read Reviews (9)
Questions & Answers
Read Reviews (9)
Questions & Answers