Recipes from Our Chefs
Creating happiness through cooking and sharing good food is what we strive to do every day. And these days, it's more important than ever.
Right now, we need to put more space between us and share virtually. So, we pulled together this collection of nourishing home-cooked recipes, plus advice and how-tos from our cooks at Sur La Table. We hope you find some comfort here.
COOKS AT HOME
We're welcoming you into our home kitchens to see how we're staying busy and well fed. Stop by anytime to get tips,
recipes and inspiration for all your meal planning and preparation—plus a glimpse at our candid, sometimes messy, countertops.
We'll be updating the content regularly with ideas to inspire you to cook more, stay healthy and keep connected.
LEARN MORE
What We're Having
Here's a collection of some of our favorite, nourishing and satisfying recipes. These are dishes we come back to again and again.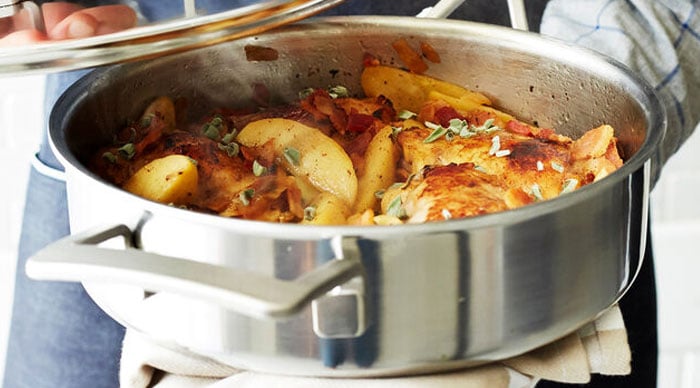 Cider-Braised Chicken with Apples
This full flavored dish is complete as a one dish meal—just serve with a loaf of crusty bread.
GET RECIPE
Ale-Spiked Chicken Wings
These baked wings are full of flavor and pair perfectly with homemade ranch dip.
Get Recipe
Potatoes au Gratin
Yukon Golds paired with Gruyère and cream make this delicious dish a cool-weather favorite.
Get Recipe
[+] Share feedback with us