Swissmar Raclette Granite Stone
Details
https://www.surlatable.com/swissmar-raclette-granite-stone-1418934-x-919034-x-19034/656348.html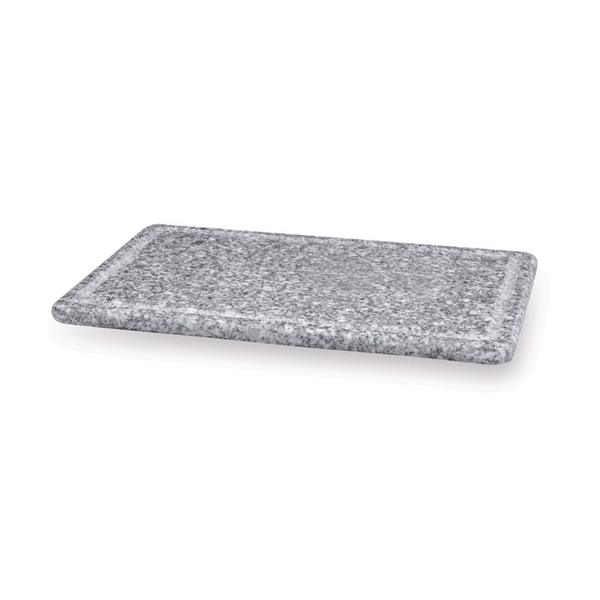 Swissmar Raclette Granite Stone
Additional Information
This raclette granite hot stone is a replacement part for Swissmar's Classic, Stelvio and Zermatt grills. Ideal for grilling and cooking eggs, pancakes, crepes and more, it can be used on models that come originally with a granite stone, or it can be used on the models with the reversible nonstick grill top to enhance the raclette experience. The natural granite stone top is polished and 100% non-toxic.

THE SWISSMAR DIFFERENCE
Swissmar has set the standard for raclette appliances and tools. With their passion for helping inspire raclette cooking around the world, home chefs have long valued their solid sturdy designs and full line of raclette accessories.

DISCOVER THE DELICIOUS FUN OF RACLETTE
Raclette is a delectable Swiss cheese dish that has been popular for centuries. Its origin dates back hundreds of years when shepherds tended their herds in the mountains of Switzerland. Supplies were limited and meals consisted of cheese melted by the fire then drizzled onto potatoes and pickles. From these humble origins the tradition of raclette was born. Today, raclette parties are a wonderful way to create inspired meal events, by allowing guests to choose their favorite prepared meats, vegetables and cheeses for fun social cooking around the raclette grill.
Natural granite stone top is polished and 100% non-toxic
Granite grill top measures 9 by 14-inch
Intended for use with Swissmar Classic and Stelvio raclette bases
Wonderful for grilling meats and vegetables
Replacement top for raclette party grill
Ideal for grilling and cooking eggs, pancakes, crepes and more
A perfect gift for Raclette fans that already own the non- stick reversible top
Swissmar has set the standard for raclette appliances and tools
Swissmar has a reputation for solid sturdy designs and full line of raclette accessories
Raclette is a delectable Swiss cheese dish that has been popular for centuries
Raclette parties are a wonderful way to create inspired meal events, by allowing guests to choose and cook their favorite prepared meats, vegetables and cheeses
Manufacturer: Swissmar
Model: KF-77049
Dimensions: 14½" Length x 9¾" Width x ¾" Height
Care: Wipe with damp cloth
Made in China
Read Reviews (0)
Questions & Answers
Read Reviews (0)
Questions & Answers