CELEBRATING WOMEN'S HISTORY MONTH
This month, we're telling the stories of the women of Sur La Table—the colleagues, partners and makers (there are lots of ladies around here)—who create happiness through cooking and sharing good food. These remarkable women inspire us daily, in and out of the kitchen.
SUR LA TABLE FOUNDER
SHIRLEY COLLINS
When Shirley Collins opened our first store in Seattle's Pike Place Market, she was embarking on something entirely new—for her and for the city. Customers found a surprising selection of global cookware no one else offered, plus knowledgeable employees who were cooks too. We now have 127 stores and the largest cooking school in the country, but our passion and purpose is the same: to provide tools and skills to bring people together over good food.
FOOD & FRIENDSHIP
OUR TALK WITH SHIRLEY
On Sur La Table's start and how her friendships with customers and cooks like Julia Child helped her store thrive.
Read More
COOKING CLASS PROGRAM FOUNDER
RENEE BEHNKE
When Renee Behnke introduced our cooking classes in 1996, she envisioned a place where anyone could learn techniques to create amazing global flavors at home. More than 20 years later, over 700,000 people take our classes each year—that's a lot of traveling taste buds!
CHILEWICH FOUNDER
SANDY CHILEWICH
Sandy Chilewich introduced her woven textiles in 2000. Using custom-designed bi-color yarns, her iconic placemats changed how tables are set in homes and restaurants around the world. Chilewich products are currently available in 110 countries. And seven Chilewich designs are in the permanent collection of the Smithsonian Design Museum.
SHOP NOW
FRAN'S FOUNDER
FRAN BIGELOW
A pioneer of the artisan chocolate movement in the U.S., Fran Bigelow opened her first store in Seattle in 1982. Today Fran's Chocolates is a world-class chocolate company with four Seattle area shops and three in Japan. Fran's is renowned for creating beautiful confections that boast local, organic and fair-trade ingredients.
SHOP NOW
7 GENERATIONS OF MAUVIEL
VALÉRIE LE GUERN GILBERT
"From passion comes exception, from heritage, we build our future," says Le Guern Gilbert, CEO of Mauviel 1830 and the seventh generation of her family to lead the company.
SHOP NOW
WOMEN AT SUR LA TABLE
CHIEF FINANCIAL OFFICER
CHRIS N.
"Advice I would give: be an authentic leader, don't be afraid to ask for help, be a mentor to other women and take time for yourself to be your best self."
RETAIL OPERATIONS MANAGER
BRENDA W.
"I've been with SLT as an Operations Manager for 15 years, and I manage the flow of product to our stores. I enjoy helping people grow in our community, and I think it's important for women to enjoy their career path, be it at home, in the office, or at Sur La Table."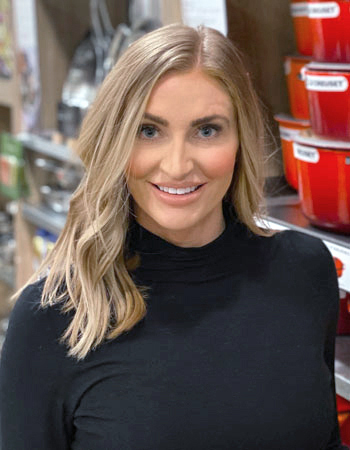 SENIOR DISTRICT MANAGER
CANDICE W.
"My favorite part about my role is training and being a mentor for my team and peer group! I spend the first 30 minutes of my day enjoying a cup of coffee and making a list of goals I want to accomplish that day."
SR. DIRECTOR, MERCHANDISING
ALYCIA J.
"As a working mom, I have found success by committing to being at work when I'm at work. When I'm at home, I'm 100% at home. This way both worlds get the best of my attention."
RESIDENT CHEF
KAT W.
"I started teaching healthy cooking workshops for a non-profit organization for young girls on the North Side of Chicago. That experience and those girls truly inspired my passion for teaching. "
DIRECTOR OF PLANNING
ANNIE J.
"I've had the opportunity to work with some strong female mentors over the course of my 14 years in the industry. It's so easy to get caught up in the day-to-day grind, and having those mentor relationships helped me see the challenges that face women at every level and bounce around the strategies that work best and which to avoid."
SENIOR PORTFOLIO MANAGER, I.T.
LIZ G.
"Our company was founded by a fearless woman, and she set the foundation for many other women to follow in her footsteps. On average, women are under-represented in tech, particularly in leadership roles. This is why SLT's support for women in leadership is especially meaningful to me. I have the opportunity to define strategic initiatives and support a talented team to make it happen."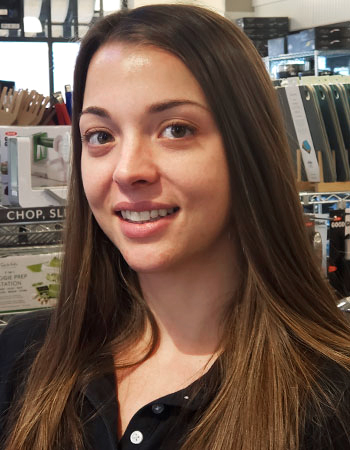 GENERAL MANAGER
JESSICA M.
"Being in a leadership role can be demanding at times but is incredibly fulfilling. Creating connections with other leaders, vendors and employees keeps all sorts of options available for solving situations as they arise."
Connect with us
$15 OFF YOUR ORDER*
*Order of $75 or more. Excludes sale and clearance. New subscribers only.