CELEBRATING THE WOMEN OF SUR LA TABLE
This month, we're telling the stories of the women of Sur La Table—the colleagues, partners and makers (there are lots of ladies around here)—who create happiness through cooking and sharing good food. These remarkable women inspire us daily, in and out of the kitchen.
SUR LA TABLE FOUNDER
SHIRLEY COLLINS
When Shirley Collins opened our first store in Seattle's Pike Place Market, she was embarking on something entirely new—for her and the city. Customers found a surprising selection of global cookware no one else offered, plus knowledgeable employees who were cooks too. We now have stores coast-to-coast and the largest cooking school in the country, but our passion is still the same: to provide the tools and skills to gather people together over good food.
FOOD & FRIENDSHIP
OUR TALK WITH SHIRLEY
From Sur La Table's start to how her friendships with customers and cooks like Julia Child helped her store thrive—Shirley covers it all here.
Read More
COOKING CLASS PROGRAM FOUNDER
RENEE BEHNKE
When Renee Behnke introduced our cooking classes in 1996, she envisioned a place where anyone could learn techniques to create amazing global flavors at home. More than 20 years later, over 393,000 people take our classes each year—that's a lot of traveling taste buds!
CHILEWICH FOUNDER
SANDY CHILEWICH
Using custom-designed bi-color yarns, Sandy Chilewich's iconic placemats changed how tables are set in homes and restaurants worldwide. Chilewich products are currently available in 110 countries, and seven Chilewich designs are in the permanent collection of the Smithsonian Design Museum.
EXPLORE MORE
FRAN'S FOUNDER
FRAN BIGELOW
A pioneer of the artisan chocolate movement, Fran Bigelow opened her first Seattle shop in 1982. Today, Fran's is a world-class chocolate company with shops in Seattle and Japan. Renowned for creating lovely confections from local, organic and fair-trade ingredients, Fran's has built a loyal following around these elegant sweets.
EXPLORE MORE
ILLUSTRATOR & DESIGNER
BARB TOURTILOTTE
Barb Tourtillotte turned a passion that started with crayon drawings on her bedroom walls as a toddler into a successful career in illustration and product design. Barb's artwork has been licensed by over 50 companies and is featured on our exclusive Easter dinnerware.
EXPLORE MORE
FOUNDER OF STASHER BAGS
KAT NOURI
Kat Nouri turned her family's search for an alternative to wasteful single-use plastics into an award-winning business. With her background in designing silicone textiles, she developed the world's first patented, self-sealing platinum silicone storage bag. To date, her bags have prevented nearly a billion plastic bags from ending up in landfills and our oceans.
EXPLORE MORE
PRESIDENT & CEO OF VITAMIX
DR. JODI L. BERG
Dr. Berg is the fourth-generation president and CEO of Vitamix, a 99-year-young, family-owned manufacturer of high-performance blending equipment. Under her leadership, Vitamix experienced organic growth of over 400% and its products are now available in more than 130 countries worldwide.
EXPLORE MORE
WÜSTHOF MANAGING DIRECTOR
VIOLA WÜSTHOF
An energetic ambassador for the brand that bears her name, Viola Wüsthof helped grow this family-owned business into a global juggernaut. Founded in 1814 and now in its 7th generation, each knife is still manufactured in Solingen with handcrafted precision, using high-quality raw materials and modern technology.
EXPLORE MORE
SUR LA TABLE COMMUNITY
SR. DIRECTOR OF MERCHANDISING
ALYCIA J.
"One of my favorite parts of working for Sur La Table is how food-centric the culture is—developing new products, ideating on seasonal flavor profiles or sharing and testing recipes. It may go without saying, but most conversations leave me feeling hungry!"
HR MANAGER
DEBBIE G.
"Being a leader and positive role model is important to me. My advice to others: believe in yourself, self-advocate, stick to your values and make a difference. Every day I tell myself, 'be the change you wish to see in the world."
SENIOR DISTRICT MANAGER
SHANNON M.
"Never underestimate the power of being in the moment. I'm so blessed to have engaging clients at Sur La Table. Intentional listening, follow up and being present with the audience in front of you is so valuable."
GM AT THE WOODLANDS
A.J.
"Teaching my daughters to work hard, reach their goals, inspire others and do something they love is important to me. Cooking has always been my passion and Sur La Table has given me the opportunity to be around others who share that same passion."
CHEF
B.B.
"I'm focused on resilience: the ability to recover from difficulties. I first learned this trait in the warmth and safety of my momma's kitchen; it's a lesson I bring into Sur La Table cooking classes and coaching my team to success."
Take Her Class
CHEF
KELLY A.
"I'm a military brat and have traveled all over the world with my family. This is where I got my love for food. I love to teach pasta classes; everyone thinks pasta is such a difficult thing to make and they are always very surprised with how easy it actually is."
Take Her Class
MANAGER OF CULINARY EDUCATION CONTENT
MEREDITH
"Having worn the hats of pastry cook, food truck operator, private-school chef, farm hand, corporate executive chef, culinary school instructor and Manager of Culinary Education Content at Sur La Table, Meredith is delighted to bring these varied experiences to her teaching."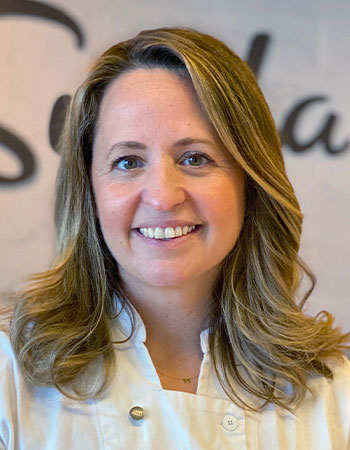 CHEF & RECIPE TESTER
DANIELLE
"Drawing from her experience as a pastry cook, caterer and food magazine editor, Danielle teaches cooking classes and creates recipes for Sur La Table. She loves digging in her garden, well-named sourdough starters and adventuring outdoors with her family."