Zojirushi Home Bakery Mini Bread Maker
Details
https://www.surlatable.com/zojirushi-home-bakery-mini-breadmaker/581512.html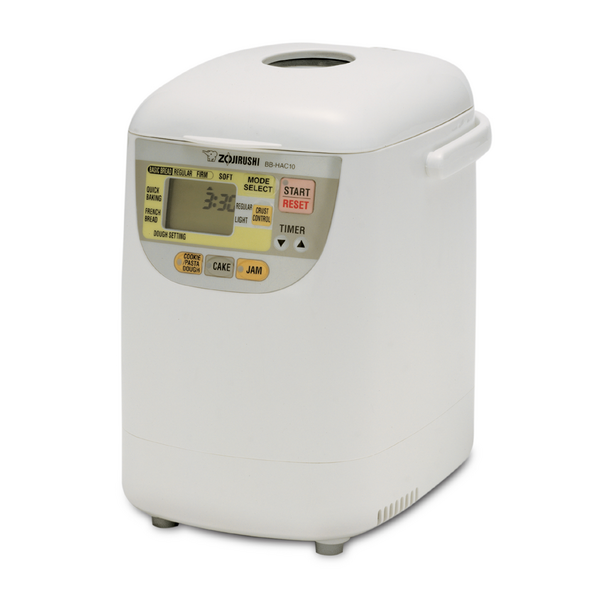 Zojirushi Home Bakery Mini Bread Maker
Additional Information
Home Bakery Mini Breadmaker is the perfect size for smaller households to savor the taste of freshly baked bread every day without waste.

There's no need to knead the dough, wait for yeast to rise—you don't even need to turn on the oven, which not only saves energy, but it's a particularly welcome feature on a hot day! The Home Bakery does it all automatically. Just prepare ingredients, choose settings and you can have bread in just a few hours.

You no longer need to mix batter to make cakes. Just place all the ingredients in the Home Bakery and it will do it all for you. You can even make homemade jam in this machine. Making your own bread gives you the power to choose what goes into it, and in turn what your family is eating. So, no preservatives, no artificial colors or flavors, just the ingredients you select.

Its compact size is ideal for kitchens with limited countertop space. Select from three bread textures: regular, firm or soft. Also prepares dough, cakes, fresh fruit jam, cookie and pasta dough.

SIMPLE TO USE
The user friendly, easy-to-read LCD control panel allows you to quickly select the correct settings, helping make the process nearly fool proof. An added plus: the bread maker includes an easy-to-follow instruction video, manual and recipe booklet. Even if you've never made bread before, Zojirushi makes you an expert in no time.

TIME WISE
One of the most helpful features is the 13-hour delay timer; you can set up the ingredients and program the bread maker to perfectly time your cooking projects. So whether it's homemade bread for breakfast or dinner, or a special dessert or snack, the maker helps you multitask or preplan so your baked goods are done exactly when you'd like to serve it—delicious, hot and fresh. The 'quick baking cycle' prepares breads in under 2 hours, great for those times when you haven't planned ahead.
BENEFITS:
Home Bakery Mini Breadmaker bakes a 1-lb. loaf of bread—perfect for smaller households
Compact size takes up little room on your countertop
User-friendly, easy-to-read LCD control panel
Three texture settings (regular, firm and soft) let you suit individual tastes
Includes settings for French bread, dough, cookie/pasta dough, cake, jam and quick bread
No need to knead the dough, wait for yeast to rise—you don't even need to turn on the oven
Make healthy breads without preservatives, artificial colors or flavors, just the ingredients you select
13-hour delay timer allows you to set up the ingredients and program the bread maker to perfectly time your cooking projects
Quick baking cycle speeds up the baking process if you're in a hurry
Sturdy handle for easy transport
Includes an easy-to-follow instruction video, manual and recipe booklet
Manufacturer: Zojirushi American Corporation
Model: #BB-HAC10
Material: Stainless-steel baking pan with nonstick coating; hard plastic body
Capacity: Bakes 1-lb. loaf of bread
Dimensions: 8" x 11" x 12"
Watts: 450W
Made in China
Wash body and blade with damp sponge; soak and wash baking pan with kitchen detergent
Read Reviews (17)
Questions & Answers
Read Reviews (17)
Questions & Answers