Bitterman Garlic Salt, 3 oz.
Details
https://www.surlatable.com/bitterman-garlice-salt/5272695.html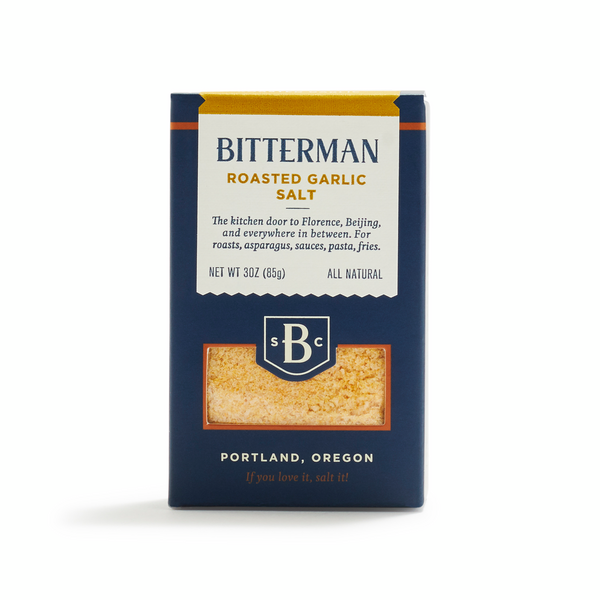 Bitterman Garlic Salt, 3 oz.
Additional Information
Fresh garlic meets sun-evaporated, hand-harvested fleur de sel in this infused salt that tastes great on just about anything. Sneak this salt into anything and everything! Sprinkle on pasta, popcorn, and scalloped potatoes, sautéed squash. Mash into unsalted butter for other worldly garlic bread. Use as a topping for everything from pizza to tomato salad, or in sauces from béchamel to Bolognese.

Homemade garlic bread in a 5 minutes: Mix 1/4 cup melted butter, 2 teaspoons roasted garlic salt, and a handful of freshly chopped parsley (1 teaspoon dried parsley flakes will work). Brush butter mixture over a halved loaf of ciabatta bread and place under broiler for 4 minutes.

Every box of Bitterman Infused Salts is a shortcut to a tastier meal. A sprinkle is all you need to bring flavor to your favorite dishes. Salt guru Mark Bitterman travels the globe seeking exotic salts because he understands salt is the most powerful, easiest and cost-effective ingredient in the kitchen.
Manufacturer: Mark Bitterman
Weight: 3 oz.
Ingredients: Sea Salt, Garlic, Rice
Made in the USA
Read Reviews (7)
Questions & Answers
Read Reviews (7)
Questions & Answers