Charcoal Companion Himalayan Salt Block, 8" x 12"
Details
https://www.surlatable.com/charcoal-companion-himalayan-salt-block-8-x-12/3895596.html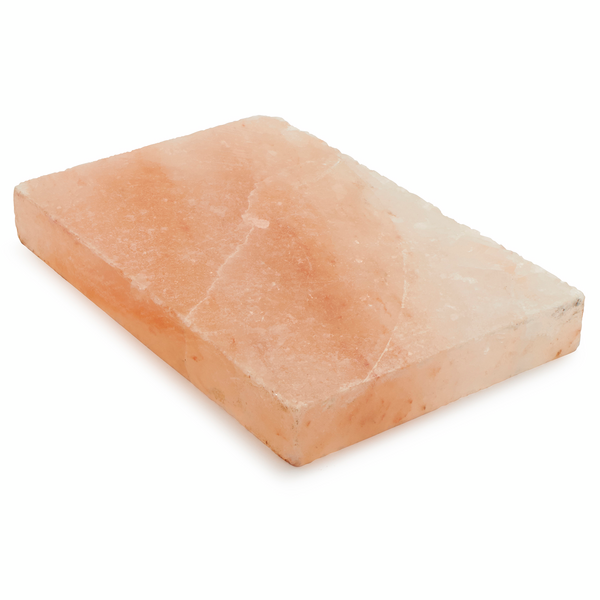 Charcoal Companion Himalayan Salt Block, 8" x 12"
Additional Information
Whether flash-searing tuna, serving sashimi, grilling scallops or chilling delicious ribbons of salted caramel, this thick, hand-cut slab of pink Himalayan salt is a delightfully inventive way to cook, chill and serve your favorite dishes. This naturally antimicrobial, mineral-rich salt block enhances the flavors of anything placed on it, making it great for chilling steaks and seafood, chilling and serving sushi or beef carpaccio, and even searing shellfish tableside. Works wonderfully on the grill, on a gas range, or even chilled in the refrigerator or freezer for serving and presenting.
Manufacturer: Charcoal Companion
Dimensions: 8" L x 12" W x 1.5" H
Warranty: 1-year guarantee
Made in Pakistan
To cook on your salt plate, heat it gradually for 30-60 minutes to arrive at optimal cooking temperature of between 300°F and 400°F. Once the plate comes to temperature, you may either continue to cook over the heat or remove plate and cook off the retained heat. Salt plate will maintain temperature for quite some time, but please keep in mind that foods will acquire saltier flavor as the plate cools. When heating salt plate on a gas range or grill, heat gradually, starting with the lowest flame possible. Slowly, increase the heat to medium for approximately 30-45 minutes until the plate reaches the optimal temperature.
Himalayan salt is naturally antimicrobial and does not require cleaners
After use, scrub with soft brush or sponge, pat dry and allow at least 24 hours before next use.
Do not submerge in water or use under broiler.
Read Reviews (5)
Questions & Answers
Read Reviews (5)
Questions & Answers