Crafthouse by Fortessa Julep Strainer
Details
https://www.surlatable.com/crafthouse-by-fortessa-julep-strainer/4569554.html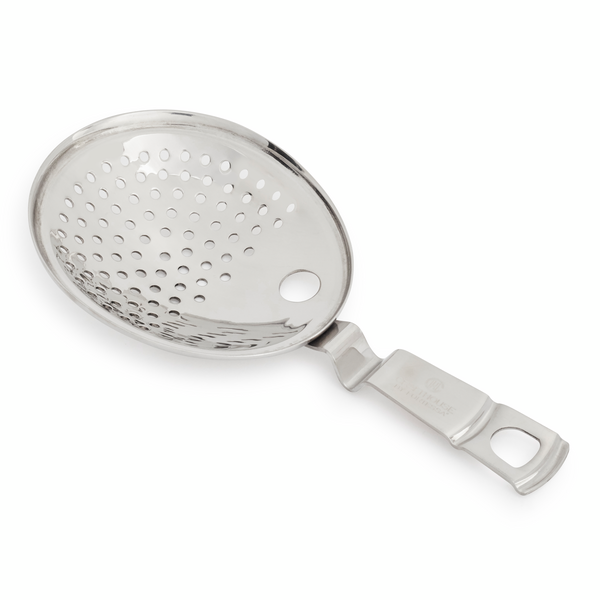 Crafthouse by Fortessa Julep Strainer
Additional Information
An indispensable tool for the mixologist, the julep strainer filters out mint, ice and more from your cocktails for smooth, clean, refreshing beverages. It features an oval-shaped head to fit mixing glasses, a crimp in the handle to guide the strainer, and a straw-sized opening to allow classic presentation of cocktail and drinking straight from mixing glass without the inconvenience of large chucks of ice or muddled fruit hitting your mouth. The Crafthouse julep strainer is made of durable and timeless stainless steel.
Crafthouse tips:
As you stir your cocktail in the mixing glass, top up with ice to help dilution and temperature of the cocktail. It will also help your julep strainer sit properly as you serve up the drink.
Ice scoop not in reach? Your julep strainer makes a great one in a pinch.
The julep strainer appears in a beautiful etching printed in the very first cocktail book in 1862! We've designed it to work with our "Smash Cup" to re-create this authentic and stylish presentation.
With the expertise and input of world champion bartender and award-winning mixologist Charles Joly, Crafthouse by Fortessa brings you a complete line of barware for the home mixologist. These professional-grade tools are inspired by classic, Prohibition-era barware and updated with contemporary ergonomic principles, resulting in timeless tools that look as good as they work.
Manufacturer: Crafthouse by Fortessa
Material: Stainless steel
Dimensions: 6.2" x 3.5"
Made in China
Read Reviews (0)
Questions & Answers
Read Reviews (0)
Questions & Answers