Schott Zwiesel Bar Collection All-Purpose Tumblers
Details
https://www.surlatable.com/schott-zwiesel-charles-schumann-all-purpose-tumbler-113-oz-set-of-6/1016799.html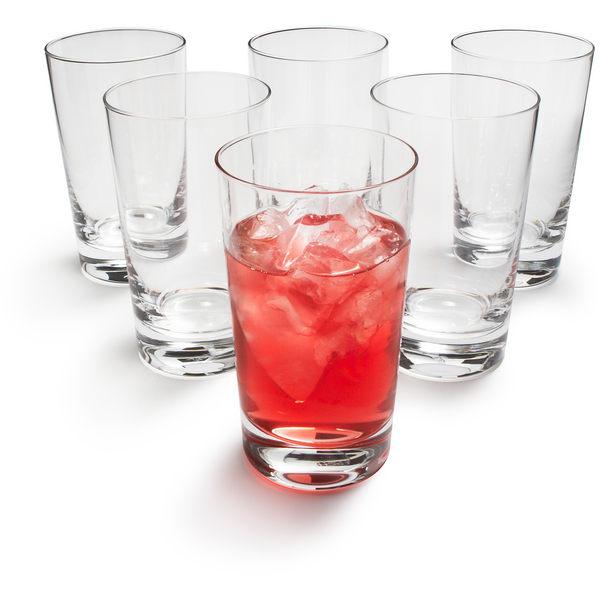 Schott Zwiesel Bar Collection All-Purpose Tumblers
Additional Information
With a heavy sham base, and slightly taller than the whiskey tumbler, this glass is ideal for highball cocktails, like gin and tonic, rum and coke and margarita on the rocks.

World-renowned bartender and author of the definitive American Bar, Charles Schumann and German glassmaker Schott Zwiesel bring you the ultimate collection for the bar. The Bar Collection consists of tried and tested classics for the bar and also offers, with regard to its interplay of function and design, new sizes and accessories.

The design follows the ambition that each glass underlines that specific character of the respective drinks. Shape, size and diameter of the rim on each glass help convey the flavor profile and characteristic of each drink. The proven, internationally patented Tritan® technology ensures that each glass is highly resistant to breakage and will maintain its sparkle after years of use.
With a heavy sham base, and slightly taller than the Whiskey Tumbler
Ideal for highball cocktails, like gin and tonic, rum and coke and margarita on the rocks
World-renowned bartender and author of the definitive American Bar, Charles Schumann and German glassmaker Schott Zwiesel bring you the ultimate collection for the bar
The Bar Collection consists of tried and tested classics for the bar and also offers, with regard to its interplay of function and design, new sizes and accessories
The design follows the ambition that each glass underlines that specific character of its respective drinks
Shape, size and diameter of the rim on each glass help convey the flavor profile and characteristic of each drink
The proven, internationally patented Tritan technology ensures that each glass is highly resistant to breakage and will maintain its sparkle after years of use
Made in Germany
Capacity: 11.3 oz.
Dimensions: 5" h x3" w
Material: Tritan crystal
Read Reviews (2)
Questions & Answers
Read Reviews (2)
Questions & Answers