Schott Zwiesel Pure Highball Glasses
Details
https://www.surlatable.com/schott-zwiesel-charles-schumann-pure-highball-rocks-glass-183-oz-set-of-6/1016575.html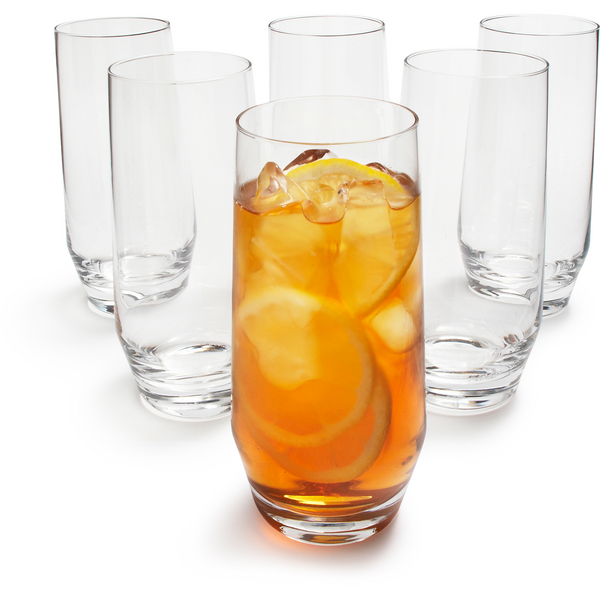 Schott Zwiesel Pure Highball Glasses
Additional Information
By replacing the lead in traditional crystal with titanium and zirconium, Schott Zwiesel has created the strongest, clearest, most brilliant crystal glass available. Patented Tritan® Crystal retains its clarity and luster for the life of the glass and resists chipping, scratching, and breakage.

The Pure line offers a modern gourmet experience. The striking chimneys of these crystal glasses let wines breathe while underscoring even the most delicate of bouquets. Encompassing nine glasses for all of the major grape types—as well as for whiskeys and drinks—this perfectly conceived set provides the ideal backdrop for all occasions and menus. With Pure, wine connoisseurs and talented novices can present their wines and cocktails in stunning style. Despite its delicate silhouette, each glass in the Pure collection is scratch resistant and dishwasher safe.

The Pure highball rocks glass is the perfect highball for any table setting or bar. This glass is designed for a wide variety of beverages, from a detailed long drink to everyday beverages such as iced tea or water.
The lead in traditional crystal is replaced with titanium and zirconium
Schott Zwiesel has created the strongest, clearest, most brilliant crystal glass available
Patented Tritan Crystal retains its clarity and luster for the life of the glass
Resists chipping, scratching and breakage
Pure line offers a modern gourmet experience
Striking chimneys of these crystal glasses let wines breathe while underscoring even the most delicate of bouquets
Encompassing nine glasses for all of the major grape types
Perfectly conceived set provides the ideal backdrop for all occasions and menus
Wine connoisseurs and talented novices can present their wines and cocktails in stunning style and quality
Despite its delicate silhouette, each glass in the Pure collection is highly robust, scratch resistant and dishwasher safe
The Pure highball rocks glass is the perfect highball for any table setting or bar
Designed for a wide variety of beverages, from a detailed long drink to every day beverages such as iced tea or water
Made in Germany
Capacity: 18.3 oz.
Dimensions: 6½" h x 3¼" w
Material: Tritan crystal
Set of 6 highball glasses
Read Reviews (4)
Questions & Answers
Read Reviews (4)
Questions & Answers