Schott Zwiesel Cru Classic Champagne Glasses, Set of 6
Details
https://www.surlatable.com/schott-zwiesel-cru-champagne-glass/1140987.html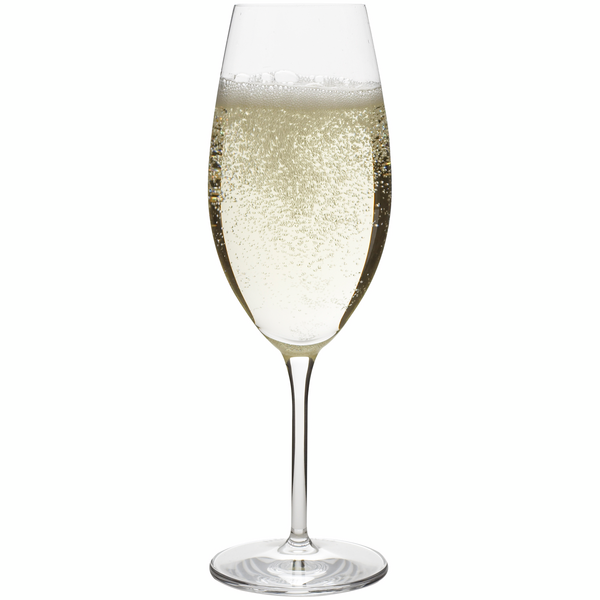 Schott Zwiesel Cru Classic Champagne Glasses, Set of 6
Additional Information
This ultra-durable, lead-free glass employs the strength of titanium to create beautiful stemware. The high-volume bowl is combined with a shorter stem for a dramatic presentation and easier handling. The Cru Collection is the perfect introduction to the fine design of Schott Zwiesel Tritan crystal.

Designed for Champagne and other sparkling wines, the flute has a tall shape and small mouth to allow the bubbles to move slowly and retain their effervescence. This glass is reinforced at the rim and both ends of the stem (where it meets the foot and the bowl) for unmatched strength.

The secret to Schott Zwiesel glassware's longevity is their exclusive Tritan Crystal and manufacturing technology. By eliminating lead content from glass and replacing it with Titanium and Zirconium, Tritan Crystal delivers superior durability and brilliant light-reflecting appearance. Additionally, Schott Zwiesel reinforces the zones on their glassware most vulnerable to breakage: the rim, the junction of bowl and stem, and the junction of foot and stem. Independent testing has proven Schott Zwiesel glassware resists chips, scratches, breakage, discoloration, spots and stains even after 1,000 cycles in the dishwasher, helping it maintain its beauty and luster for a lifetime of use.
This glass employs the strength of titanium to create beautiful stemware
High-volume bowl is combined with a shorter stem for a dramatic presentation and easier handling
The Cru Collection is the perfect introduction to the fine design of Schott Zwiesel Tritan crystal
Designed for Champagne and other sparkling wines
The flute has a tall shape and small mouth to allow the bubbles to move slowly and retain their effervescence
Reinforced at the rim and both ends of the stem (where it meets the foot and the bowl) for unmatched strength
By replacing the lead in traditional crystal with titanium and zirconium, Schott Zwiesel created the strongest, clearest, most brilliant crystal glass available
Patented Tritan crystal retains its clarity and luster for the life of the glass
Resists chipping, scratching, and breakage
Manufacturer: Schott Zwiesel
Material: Tritan crystal
Capacity: 8.4 oz.
Dimensions: 8.75" h x 2.75" w
Made in Germany
Set of 6 champagne glasses
Read Reviews (5)
Questions & Answers
Read Reviews (5)
Questions & Answers