ALL-IN-ONE AUTOMATIC COFFEE MACHINES
These impressive appliances brew café favorites from bean to cup and are fully customizable, putting a wide range of coffee and espresso drinks at your fingertips.
Taking inspiration from the world's top baristas, these premium coffee centers optimize brewing time for the best possible flavor and aroma.
Activate your inner barista—whether you enjoy an espresso, coffee, cappuccino or latte macchiato.
CAPSULE COFFEE MACHINES
If you're looking for brew-and-go convenience, it's hard to beat these pre-packaged coffee brewers.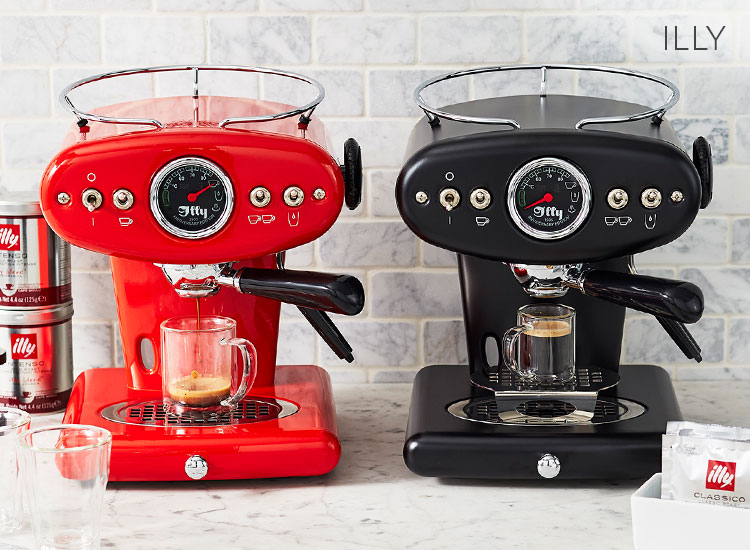 These versatile new machines let you brew with illy's fully compostable ESE pods or ground coffee—all in a sleek, space-saving design.
Simply drop in a gourmet capsule, brew and enjoy. Nespresso's capsule coffee machines make brewing cup after delicious cup a snap.
ESPRESSO MACHINES
Pulling a perfect shot of espresso is harder than it looks. These feature-rich machines offer precision control to deliver barista-quality results at home.
Pairing customizable controls with automated grinding, dosing and tamping, these pro-grade espresso machine let you fine-tune every shot.
Enjoy expertly handcrafted espresso at home with sophisticated espresso machines designed for an authentic experience.
DRIP-STYLE COFFEE MACHINES
A common sight in most kitchens, these versatile brewers are our go-to pick for producing high volumes of quality coffee in a short amount of time.