JURA Cool Control Basic, 0.6 Liter
Details
https://www.surlatable.com/jura-cool-control-basic-milk-cooler/1004902.html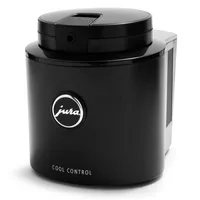 JURA Cool Control Basic, 0.6 Liter
Additional Information
Easily create delicious cappuccinos and lattes without trekking back and forth from the refrigerator. This unique cooler keeps milk cold, fresh and ready to use, right on your countertop. It connects directly to JURA one-touch frothing systems, making it the ideal accessory for your automatic coffee machine.

Innovative cooling system automatically cools milk from room temperature down to the optimal 39°F and maintains the temperature, preventing milk from becoming too warm or too cold. Quiet system uses minimal watts, which saves on energy and cost. The Cool Control automatically switches off when the stainless steel container is removed.

The high-quality stainless steel container holds 0.6 liter (20 oz) of milk. With its bayonet lock, it is easy to remove, open, fill, store in the refrigerator as needed, and clean in the dishwasher.
The CFC-free Peltier cooling system automatically cools milk from room temperature down to 39°F and maintains the temperature, preventing milk from becoming too warm or too cold
For use with your JURA one-touch automatic coffee machine
Quiet system uses minimal watts, saving energy and cost
Fits nicely on your countertop
Removable stainless steel milk container is dishwasher safe
Compact, convenient 20-oz. size
Can be used with dairy or non-dairy milk
Manufacturer: JURA
Model: 70384


Material: ABS plastic and stainless steel
Dimensions: 9.1" L x 5.7" W x 6.1" H
Capacity: 20 oz.
Watts: 25 W
Warranty: 1-year warranty
Made in China
Clean the outside of the Cool Control Basic with a damp cloth
Rinse the stainless steel container and individual parts thoroughly under running water
Please note that only the stainless steel container and the metal pipe are dishwasher-safe—all other parts (cover, adapter, etc.) are not
Cool Control Basic 0.6 L
Stainless steel container
Cover
Connectors
Milk pipe
Adapter
Metal pipe
Read Reviews (11)
Questions & Answers
Read Reviews (11)
Questions & Answers