Chemex Ottomatic Coffee Maker
Details
https://www.surlatable.com/ottomatic-coffeemaker/2923605.html
Promotions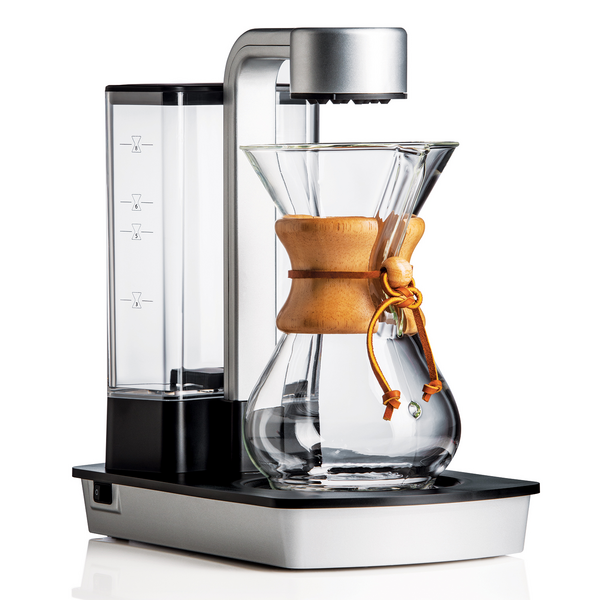 Chemex Ottomatic Coffee Maker
Additional Information
The Chemex Ottomatic makes it possible to enjoy ultra-clean, sediment-free pourover coffee without compromising on convenience. Designed to simplify the pourover brewing process, this machine handles all the precise pouring and even keeps your coffee warm on a hotplate. A special sprayhead feature wets the grounds with hot water, facilitating even extraction to draw out the deep, rich flavors in every cup.
Fully automatic pourover coffee brewer manages key brewing variables, including pre-infusion and contact time of water to coffee
Hot plate keeps coffee warm without burning or compromising flavor
Sprayhead feature offers consistent wetting of entire coffee bed for even extraction
Simple, elegant design complements the clean lines of the glass Chemex carafe
Brew time of approximately 6 minutes for a 6-cup brew
Heats water to the Specialty Coffee Industry target temperature (197.6°F–204.8°F)
Manufacturer: Chemex
Model: OTTO
Material: Polypropylene, acrylic, silicone
Dimensions: 14.5" x 17" x 19"
Capacity: 40 oz. (water reservoir), 30 oz. (glass carafe)
Weight: 14 lbs.
Watts: 1000 W
Warranty: 1-year warranty
Made in China. Filters made in the USA. Glass carafe made in the USA using domestic and imported parts.
Use Chemex Automatic Coffeemaker Cleaner to clean the glass brewer
Clean the brewer regularly using a damp cloth. Never use any chemicals, steel wool or abrasive cleaners.
To ensure the long life of this appliance, descale regularly using descale solution, after every 40 brew cycles or a minimum of every 3 months
Six Cup Classic Series Coffeemaker
Small pack of CHEMEX Bonded Filters
Glass coffeemaker cover
Coffeemaker cleaner
Read Reviews (7)
Questions & Answers
Read Reviews (7)
Questions & Answers